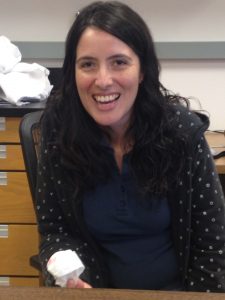 I graduated with a PhD in Pharmacy from University of Navarra, Spain. My PhD work involved in development of a portfolio of lipid nanosystems for oral peptide delivery. My current research includes drug re-positioning/therapeutic switching aided by novel delivery technologies and/or by switching route of administration.
Contact:
Email: guada@pharmacy.tamhsc.edu
Phone: +1-979-436-0722
Peer-reviewed publication
M. Guada#, R. Ganugula#, M. V. Vadhanam, and M. N. V. Ravi Kumar Urolithin A mitigates cisplatin- induced nephrotoxicity by inhibiting renal inflammation and apoptosis in an experimental rat model. J Pharmacol Exp Ther 363: 58-65, 2017 (Cover article) [#equal contributing authors]
R. Ganugula, M. Arora, P. Saini, M. Guada, and M. N.V. Ravi Kumar. Next generation precision-polyesters enabling optimization of ligand-receptor stoichiometry for modular drug delivery. J. Am. Chem. Soc. 139: 7203-7216, 2017 (Cover article).
R. Ganugula, M. Arora, M. Guada, P. Saini and M. N.V. Ravi Kumar. Non-competitive active transport exploiting intestinal transferrin receptors for oral delivery of proteins by tunable nano-platform. ACS Macro Lett. 6: 161-164, 2017 (Cover article).