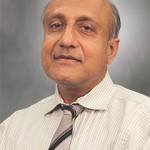 M. Sriram Iyengar
Associate Professor
B.Tech., Electrical Engineering, The Indian Institute of Technology, Madras
M.Sc., Electrical Communication Engineering (Information and Communication Theory), The Indian Institute of Science, Bangalore
M.S., Statistics, The Ohio State University
Ph.D., Computer Science (Distributed Computing and Artificial Intelligence), The Ohio State University
Clinical Informatics: Computational techniques to support Algorithmic medicine and medical decision-making
Symbolic Systems Biology: Mathematical and computational modeling of biological processes and pathways
Public Health Informatics (PHI): The role of information and communication technologies to improve data standardisation, utilisation and decision making in public health information systems. Sriram teaches the course Foundations of Health Information Science that is required for students in our dual Masters program in Public Health and Biomedical Informatics. He has mentored the doctoral dissertations of three students whose research impacts public health informatics.
Contact Us
Biomedical Informatics Core, Clinical Science & Translational Research
2121 Holcombe Blvd
Houston, TX   77030