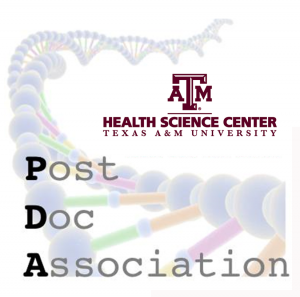 The Mission of the TAMHSC Postdoctoral Association (PDA) is to improve the quality of the postdoctoral experience and to facilitate the long-term success of its members. Primary goals of the PDA include the following:
1. To strive for the professional enrichment and development of postdocs at the Texas A&M Health Science Center.
2. To promote and provide opportunity for postdocs networking and social development.
3. To clearly define and communicate the needs and concern of Postdoctoral Fellows at an institutional level
Join the National Postdoc Association (Affiliate Membership is FREE of Cost since it is covered by TAMHSC)
Check out Office of Postdoctoral Affairs for more resources!
Like us on Facebook