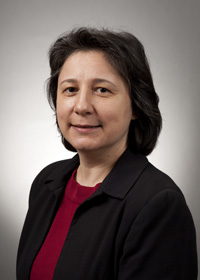 Andreea Trache, Ph.D.
Associate Professor, Department of Medical Physiology
Department of Biomedical Engineering, Texas A&M University
Education:
1989, B.S., Physics, University of Bucharest, Romania
1996, Ph.D., Physics, Institute of Atomic Physics
Mailing Address: 349A Joe H. Reynolds Medical Building, College Station, TX, 77843-1114
Phone: 979-436-0826 | Fax: 979-862-4638 | E-mail: trache@tamu.edu
---
The research in Dr. Trache's laboratory focuses on the study of cellular adaptation to mechano-chemical stresses from a biophysical perspective. To conduct these studies, we developed microscopy technologies that enable single cell imaging combined with mechanical stimulation in real time.
Our lab uses live vascular cells as model system. Endothelial and vascular smooth muscle cells reside 'in vivo' in a mechanically active environment that is continuously changing. Real-time imaging of live cells is the only way to directly monitor cellular responses to mechano-chemical stimulation. In addition, single cell imaging experiments allow discrete measurements of transient microscopic events that may be masked by a macroscopic average behavior and will aid in understanding such behavior.