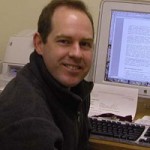 Jon T. Skare, Ph.D.
Professor and Associate Chair
B.S. University of California at Irvine (1986)
Ph.D. Washington State University (1992)
Postdoc. University of California-Los Angeles (1992-96)
My laboratory studies Borrelia burgdorferi, the spirochetal bacterium that causes Lyme disease. B. burgdorferi is the most common arthropod-borne infectious agent in the United States, with over 35,000 cases reported to the CDC in 2008. This number represented a 30% increase from the previous year, indicating that B. burgdorferi is a re-emerging infectious agent.
The goals of my research are to understand how B. burgdorferi causes disease and adapts to different niches it occupies by: (1) addressing the role of attachment, colonization and subsequent dissemination using newly developed genetic methodologies to inactivate genes involved in adherence ofB. burgdorferi to host tissues; and (2) understanding how B. burgdorferiresponds to oxidative stress via the function of the global regulatory protein BosR.
Contact Us
Department of Microbial Pathogenesis and Immunology
8447 State Highway 47, MREB #3004
Bryan, TX   77807